Top 3 Free PDF Translators (2023 Updated)
Free PDF translators allow you to translate foreign language PDF files into the target language. The world is growing rapidly, so people are hiring, studying, and sharing PDFs internationally. This may create a problem for them if they don't use free PDF translator software to translate their PDFs instantly.
Why You Need a Free PDF Translator
A free PDF translator converts a foreign language into a target one. If you can't understand a foreign language on PDF, just get a free PDF translator that is 2023 updated and will translate your files instantly. Below are the advantages of using free PDF translators:
1. Saves Time
A free PDF translator will translate your files immediately and save you time. Imagine wasting time finding an online PDF translator and ending up with a poor translation.
2. Saves Money
Technology has advanced; you don't need a human translator to translate your PDFs. The free PDF translators will save you the money you may spend on translators. Moreover, the free PDF translators do a perfect job, so you won't be required to buy a paid one.
Best Free PDF Translators of 2023
There are many PDF translators online today; however, we researched and found the best ones. Moreover, the below-mentioned softwares are free to use and provide the best results.
The software has a user-friendly interface, high-security encryption, and advanced features. WPS Office allows users to instantly translate their PDfs from a foreign language to a targeted one. Moreover, the software is easy to use and offers password and signature protection. The software has many other features than translation. Further, it has a standard free version, and two paid versions. Check out their pricing here.
System Support
The software supports Windows, MacOS, and Linux. Moreover, it has a free application on IOS and Android.
Pros
It lets you view, read, translate, convert, and more instantly

Has a variety of unique features

Easy to use

Highly encrypted

Lets you draw, annotate, and protect your files

Free standard version

Has a user-friendly interface
Tips for Using
Install WPS Office on your device

Open or upload a foreign language PDF into the software

Find the translate feature in the toolbar

Click translate to translate the foreign language file into the target language

Save and share the file.
Reviews
A G2 review about WPS Office states. "WPS helps me provide a way to read and edit documents all through my phone. During my class hours in college, I usually use the WPS office to read documents (in pdf) or make quick changes to ppt presentations. WPS Office is a perfect alternative to all the document reading applications when it comes to mobile users."
An Appstore review about the software states, "I have been using this wonderful app for quite some time, and the basic free version is sufficient for most of the jobs you need."
Google Translate is the all-time famous software for translations. The software is entirely free and easy to use. Google Translate allows users to translate documents, websites, texts, and images. The software is purely for translating PDFs; moreover, Google Search Engine recommends this software for translation.
System Support
The software is available online and has an app on IOS and Android. The software supports Windows, MacOS, and Linus systems.
Pros
Easy to use

Has simple user interface

Purely a translation software

Completely free

Supports more than 120+ languages
Cons
Tips for Using
Start by downloading the software on your device

Open and log in through Google

You can translate without logging in

Add text, documents, images, or website to translate

The software will translate it for you.
Reviews
A G2 review about the software states, "Google Translator is very easy to use and helps you translate all languages in just one click. We can learn, understand and upgrade our vocabulary using Google Translator. If you have difficulty understanding, just Google it, and it will translate for you."
Another G2 review states, "The software has a very easy interface, and even a small kid can use this software. Just write your content in your native language and get the translation in seconds in whichever language you need."
Swifdoo is another free PDF translator that allows users to translate their PDFs instantly with its "Quick Translation" tool. The software is easy to use and can be downloaded free from its website.
System Support
The software only supports Windows. It's compatible with Windows 7,8,10, and 11.
Pros
Easy to use

Lets users translate immediately

Enables users to translate sentence by sentence, word by word.

Free of cost
Cons
It has no review posted online
Tips for Using
Download SwifDoo on your Windows PC

Open or upload a file

Click quick translation for instant translation

Select a word or sentence to see their translation

Save and share your PDF file

Explore more features in the toolbar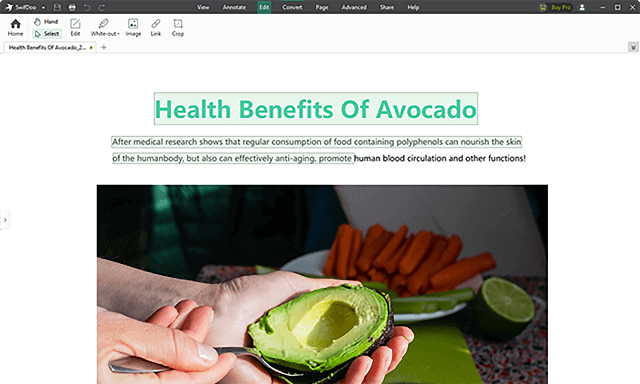 Reviews
SwifDoo has no review yet.
FAQs on Free PDF Translators in 2023
What is the best free PDF translator?
Google Translate is the best free PDF translator if you only want a translator. However, you must go for WPS Office if you want a PDF viewer or editor with advanced features.
How Can I translate a PDF for free?
Download a free PDF translator software, open or upload a PDF, select the translate tool from the toolbar, and click it to translate. Change the target language and read the translated PDF.
Learn More about the Free PDF Translators
Knowing the software before downloading and using it on your device is critical because many software are scams and viruses. We have mentioned the best software for PDF file translation. One of the best PDF translation software is WPS Office.
With its various features, WPS Office enables users to translate, edit, draw, convert, and do more online and offline. Although the software is free, it has advanced features that let you do wonders on your PDFs. What are you waiting for, then? Download yours here!