How to Convert PDF to DOCX by WPS?
This tutorial will clarify how to convert pdf to DOCX file. Why do we need a pdf to Docx converter, and how to use it? Plus, we will read about the fantastic features of the WPS office.
What is pdf to DOCX converter?
A docx is a file created by Microsoft word. This file is most prevalent in offices, colleges, universities, and even at home to create letters, charts, and other essential documents. This file can save plain text, charts, images, and tables.
Docx files have replaced doc files. Doc files store data in binary format, and Docx files store data in separate files in the zip package.
Why use pdf to DOCX converter?
When working in an office or dealing with documents, we often edit previous files if possible. Let's say we need to convert a pdf file into a docx. What should we do? PDF files cannot be edited. We must use an online converter to convert pdf files to Docx format.
Docx files contain tables, images, text, and more. A good pdf converter can quickly and efficiently convert files.
How to convert pdf to DOCX file?
How to convert pdf to Docx files, there are many programs available online. Adobe pdf reader and WPS office are one of them. WPS office tries to give maximum accuracy for conversion of pdf to Docx format.
Convert pdf to DOCX using WPS office:
This tutorial will use the WPS office to convert pdf to Docx files.
Method:
Step 1: Download the pdf converter online and install it.
Step 2: After installation, open the WPS office; this interface will appear in front of you.
Step 3: Now click on the pdf to word converter, and a screen will appear with a button named "add files." Click on the add files button and select the file you want to convert to the docx file.
Step 4: We uploaded a pdf file with the "checklist for the informational article."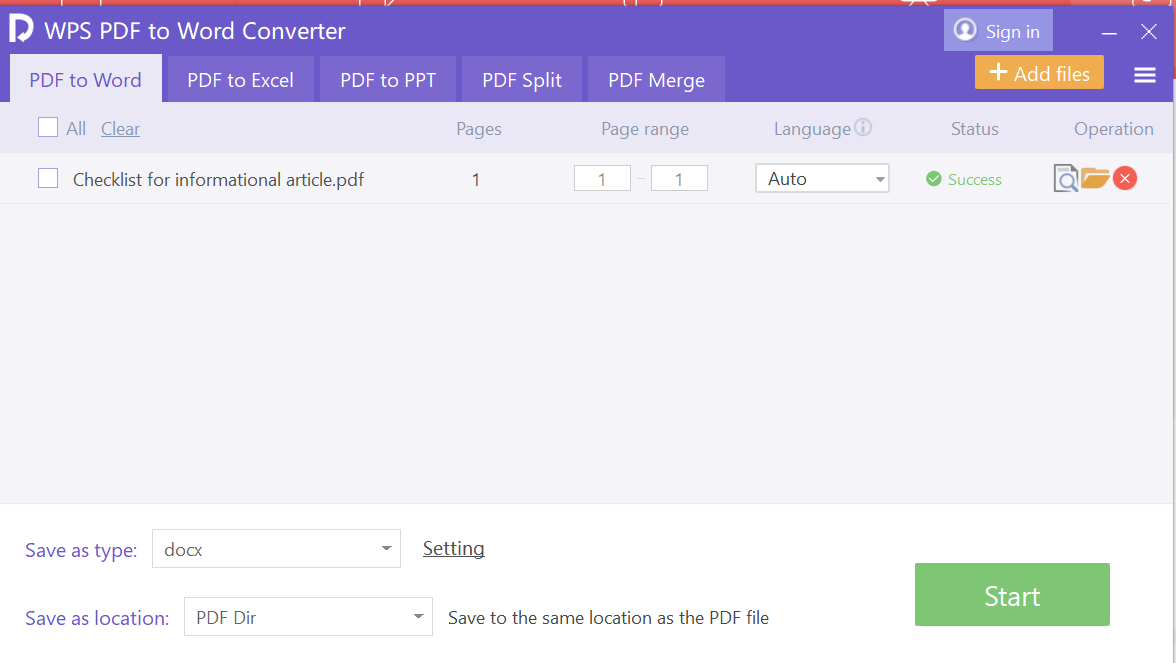 Step 5: Now click on the start button, and after almost 5 to 6 seconds file will open in front of you. This file will be in Docx format.
Step 6: See in the figure, converted file from pdf to Docx.
Improving pdf to DOCX converter:
While converting pdf to docx file format, some issues need to be improved.
Make converters capable of converting large files to Docx format.

Some lines ending at the entire full top may replace with a comma because of conversion purposes.

Mostly, data like tables and charts are not fully convertible. Some rows of table values of charts may be lost, or they may be forgotten.
The guide to downloading WPS
WPS allows you to quickly design word, PowerPoint or spreadsheets. You can not ony convert pdf to docx, but convert docx to pdf as well. You can also use the many integrated documents to create any type of financial, business, or educational document. You can also edit thousands of templates for free. For better results and more quality, you can also download the premium version.