How to Decrypt PDF on Windows 10 in 2022
If you are looking for a solution to decrypt PDF files in a safe and secure way then you are at the right place. After encrypting a PDF document you might forget the password. But no worries, with the proper tool you can unlock or decrypt PDF files within seconds. Multiple offline tools are available to strip your password which often doesn't work. But with WPS Office Suite and some other tools, you can easily unlock PDF documents both online and offline. It may be very disturbing when you want to access your PDF document and you can't as it's protected with a password. Thus these software industries have developed such tools to remove the encryption from your precious PDF extension. After decrypting you can download and print your documents. These tools are available for windows 10, Mac, and iPad users. Without moving here and there let's get to the easiest way to decrypt PDF processes.
2 Methods to Decrypt PDF on Windows 10 in 2022
In the following, I have shared 2 simple and easy methods to decrypt PDF on windows 10 in 2022.
1-Use WPS PDF to Decrypt PDF
You can use the WPS Office app to decrypt PDFs using the desktop version.
Steps:
Simply, open your encrypted PDF document with the WPS Office app.
Then, insert your password to open the file and press OK.
Hence go to the "Encrypt" option from the "Protect" feature.
In the new window remove the check mark from the "Set the Open Password" option and click "Confirm".
Finally, you have successfully decrypted your PDF document with the blink of an eye.
2-Utilize PDFelement to Decrypt PDF
If you wish you can also utilize the PDFelement tools to decrypt PDF files.
Steps:
Simply, open the PDF document which is protected with a password.
In the same fashion, put the "Password" key and press OK to continue.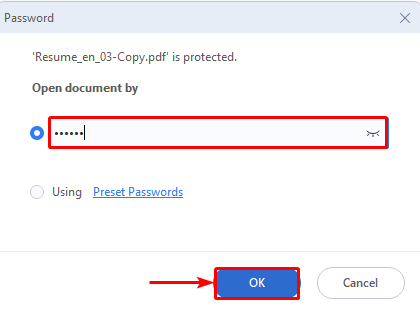 Thereafter, click the "Set Password" option from the "Protect" option.
Gently, remove the check mark from the "Open Password" option.
In summary, without any hesitation, we have our decrypted PDF file in our hands.
Related: Rename PDF or Decrypt PDF Easily – Check Out Now!
Conclusion
In this article, I have tried my best to cover all the ins and outs of decrypting PDF on windows 10 in 2022. Hope you enjoyed my article. Last but not least you can download the free 7-day trial version of the WPS Office Suite from the below link. This app is recommended as an alternative to Microsoft office due to its versatility. Thanks!