Download Free Venn Diagram Templates PDF in Three Websites
Venn diagrams are invaluable tools that enable us to visually compare and contrast various concepts. Whether you're in academia, education, or the professional world, utilizing free, printable Venn diagram template PDF can greatly enhance your ability to communicate ideas effectively.

In this article, we will explore three online platforms that offer downloadable Venn diagram templates PDFs. We will also provide insights on how to customize these templates using WPS Office.
What Websites Can I Download Venn Diagram Templates PDF?
Venn diagrams are powerful visual tools that aid in comparing and contrasting concepts. To simplify your search for Venn diagram template PDF, we have curated a list of reliable websites where you can access and save templates.
Template.Net offers a treasure trove of easily accessible free Venn diagram template PDF, available for easy download. This remarkable resource proves to be an invaluable asset for students, teachers, and professionals alike, seeking customizable Venn diagrams to fulfill their specific needs.
Pros
Free downloadable Venn diagram

Provides a range of options for different needs and industries

Can be a valuable resource for individuals or businesses looking for templates
Cons
The quality and functionality of templates may vary

Potential limitations in terms of flexibility and branding
You can enhance the visual impact of your presentations by incorporating a captivating printable Venn diagram template, readily available on TPT (Teachers Pay Teachers) – completely free of charge. This editable template boasts a sleek and organized design, featuring clearly delineated sections and intelligible labels.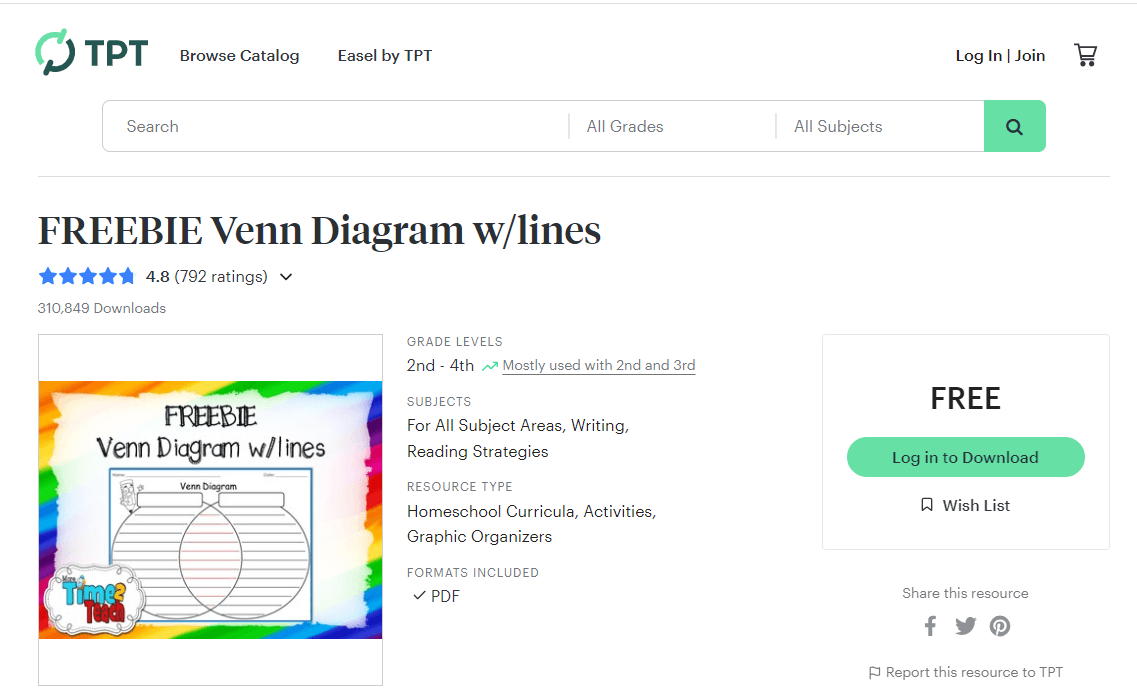 Pros
Free Venn diagrams templates designed particularly for educators

Possibility to interact with a community-driven platform and provide feedback on template designs
Cons
Limited software services beyond the acquisition of templates

Variations in template quality may result from user-generated content



M+A+T+H=Love stands out as an invaluable resource for educators, offering a wide range of valuable tools. Among their impressive offerings, their website provides a 2 circle Venn diagram template, designed to streamline the creation of Venn diagrams for diverse educational purposes. With this user-friendly template at their disposal, educators can effortlessly construct Venn diagrams to enhance their teaching methods and engage students in a meaningful mathematical learning experience.
Pros:
Printable Venn diagram template PDF designed mainly for educators.

Possibility to comment on templates and engage with a community-driven platform.
Cons:
Insufficient software services outside of template downloads.

User-generated content may result in variations in template quality
Some Free Templates Available Online:
The Venn diagram's transparency in this template provides a crystal-clear understanding of the information presented. Its easily distinguishable colors make it the perfect choice for visualizing and analyzing complex data or relationships.
In this Venn diagram template, lines replace colors, providing a clear and objective representation that remains effective for users, especially students who may not regularly work with complex numbers. The simplicity of lines ensures the concept is easily grasped, making them a valuable tool for various educational purposes.
The three-circle Venn diagram template offers a user-friendly and straightforward design, making it ideal for students and professionals alike. Its versatility allows for extensive customization, accommodating a wide range of modifications. The template is print-ready, ensuring convenient usage in various settings.
How to Make a Venn Diagram in WPS Writer?
WPS Office emerges as a free office suite that empowers users to effortlessly work with various file formats, including the popular PDF format, while offering ample opportunities to personalize and customize templates to meet individual preferences. Notably, WPS Writer, an integral component of WPS Office, excels in seamlessly inserting Venn diagram templates into your documents.
Pros
Free, cost-effective for individuals and businesses

Offers an accessible interface, user-friendly tools for all levels.

Offers diverse templates, including Venn diagrams, for various needs.
Users have the option to create personalized Venn Diagrams from scratch, allowing for a unique and visually appealing representation of data. Discover how you can easily create eye-catching Venn diagrams using WPS Writer, a user-friendly and free tool.
Step 1: Launch WPS Office, to access WPS Writer.
Step 2: Locate the "New" option in the sidebar menu.
Step 3: Click on "Docs" and then select "Blank"
Step 4: On the ribbon menu, go to "Insert" tab and then find the "WPSART" option located below.
Step 5: A variety of charts will be displayed on the WPSART dialog box. Users can select "Radial Venn'' and click "OK" to create a Venn diagram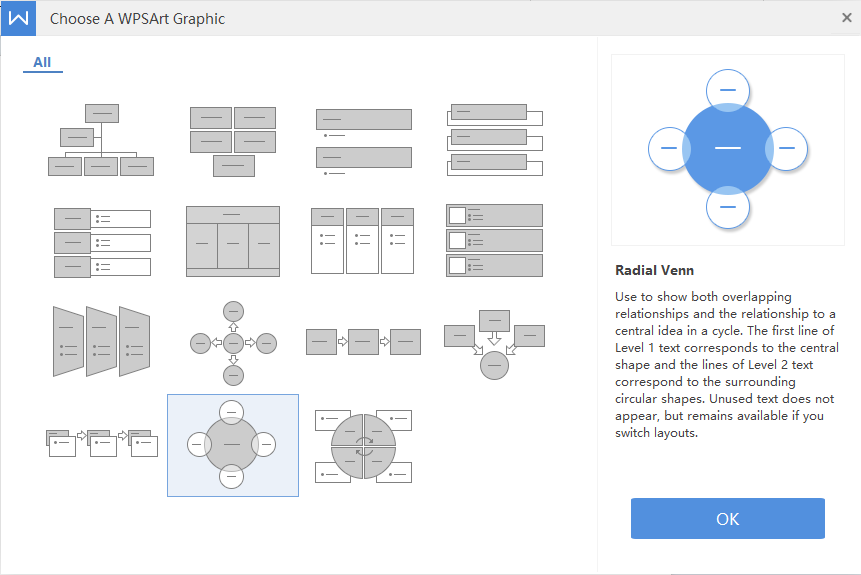 Edit or Delete the Shape of Venn Diagram
Step 1: Users can now start editing their own Venn diagram. To edit text, simply click on the "Text" on the Venn Diagram.
Step 2: Users can also change the colors of their Venn Diagram,

Step 3: Users can further personalize their Venn diagram using the taskbar menu.
Step 4: To delete a Venn Diagram, users can simply click on the Venn Diagram and Delete it using the shortcut key "Delete" on your keyboard.
FAQs
Q1: What is the equation for a 3-Venn diagram?
The equation for a 3-Venn diagram is:
n(A∪B∪C) = n(A) + n(B) + n(C) - n(A∩B) - n(B∩C) - n(C∩A) + n(A∩B∩C)
This equation can be used to calculate the total number of elements in a 3-Venn diagram, given the number of elements in each of the individual sets and the number of elements in the intersections of the sets.
Q2 What makes a Venn diagram invalid?
A Venn diagram is deemed invalid if it fails to accurately depict the relationships and intersections between the provided data sets or concepts. A Venn diagram may be invalid if the circles representing the sets do not overlap correctly or if the relationships between the sets are not depicted accurately.
Q3:What disadvantages do Venn diagrams have?
Some disadvantages of Venn diagrams are their inability to depict complex data, their limited scalability for large datasets, and the potential for confusion when dealing with multiple overlapping sets.
Exploring Venn Diagram With WPS Writer
In this article, we have delved into the fundamental principles of Venn diagrams, their validity, and the limitations to consider. Armed with this understanding, you can make informed decisions when it comes to effectively representing and analyzing data or concepts in diverse contexts using Venn diagrams.
We also provided an extensive exploration of the numerous ways in which you can leverage Venn diagrams within WPS Writer. From seamlessly inserting Venn diagram template PDF to editing or removing shapes, we have covered it all. By following our step-by-step instructions, you can harness the full potential of WPS Writer to create visually appealing and informative Venn diagrams that effectively convey your ideas and insights.