How to Convert PDF to HTML on Mac
The advancement in document conversion technology has made it easy to convert PDF to HTML on Windows and Macs. It is necessary to convert PDF to HTML so that you can represent information, data, or information online through web pages. You need to use the best PDF converter so that you can view it in the right language. The conversion also helps search engines to index content. This article offers you the most convenient way to convert PDF to HTML on Windows and Macs using UPDF.
HTML or Hypertext Markup Language refers to a markup language for the web defining the web pages' structure. It is a primary building block of all websites. This is a coding language that creates pages that web pages can display. Most of the pages you find online are usually stored in HTML file format. Thus, a website is a bunch of related HTML pages that are stored on a server somewhere. This makes HTML the backbone of the web. When you visit a page on the internet, you are requesting an HTML file that is stored on the server.
Steps to Convert PDF to HTML on Mac
UPDF for Mac is the most efficient tool you can use to export PDF to HTML on Mac. It is an all-rounded PDF converter and PDF editor with rich features that makes it offer seamless conversion. With the tool you are not limited to converting a single PDF into HTML, but you can read, annotate and edit PDF with simple clicks. PDF with images can also be extracted to texts with the help of the OCR feature. The tool is also equipped with top-end encryption that guarantees data security and privacy. Here are the steps to follow.
Step1. Import the PDF document
Download and Install the UPDF software program on your macOS device from the Mac App Store. Open the PDF files you want to convert. Export PDF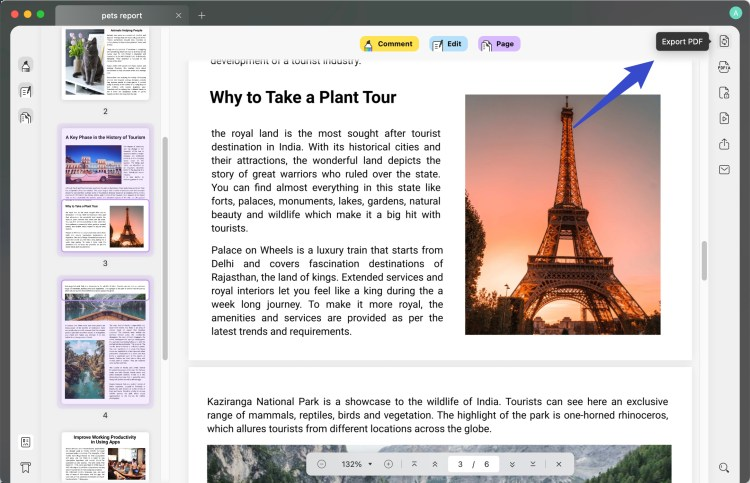 Step2. Select Output Format as HTML
You have to click on the "Export PDF" icon located on the top right side of the UPDF interface and pick HTML as your output format.
Step3. Start PDF to HTML Conversion
Once you click on the "HTML" format, a pop-up window will appear. You can change the settings of the output HTML format such as page range to be converted. After setting up, click on the "Export" button and your HTML file will be saved.
Conclusion
Best PDF to HTML Converter on Mac: WPS Office
WPS Office is a professional PDF tool that allows users to convert PDF to HTML quickly and efficiently. It also supports many other useful features, including:
Converts multiple PDF files at once.
Supports password-encrypted PDF files.
Converts a 100-page PDF file within minutes.
Keeps the original PDF graphics, formatting, and layout in HTML pages.